If you are looking for life in rural Alabama at its best, Choctaw County is the place to be. Located in the southwest region of the state, the county is nestled between the Tombigbee River and the eastern border of Mississippi. Named for the Choctaw tribe of Native Americans, the county has a rich history that dates back prior its founding on December 29, 1847.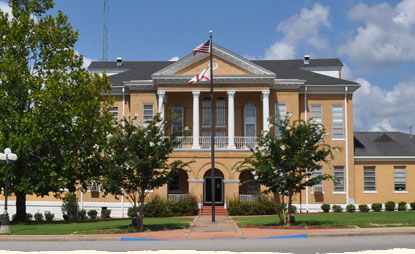 The county is known for such landmarks as the first producing oil well in the state, located in Gilbertown, and the famous Bladon Springs Park holding mineral springs once visited by kings, queens, and dignitaries from across the world. The county is the site of the discovery of the state fossil, Basilosaurus Cetoides, and is filled with historical sites that carry remarkable stories, folklore, and legends, like the notorious Sims War and the Singing Tree.
Choctaw County is an outdoorsman's paradise, drawing whitetail deer and wild turkey hunters from throughout the nation to the rich forests that are prevalent throughout the region, and forestry is by far the most significant industry in the county. At its eastern edge, the Choctaw County Wildlife Refuge provides a 4,500-acre protected wildlife habitat along the Tombigbee River.
The Choctaw County community is made up of compassionate friends and family who care about their neighbors and take pride in their quiet, hometown Alabama way of life.
Whether you are a lifelong resident, new to our area, or even just passing through, you are welcome here in Choctaw County — the place we are proud to call our home.